Pelican Air Cases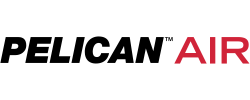 Pelican Cases Quick Overview Video
Up to 40% lighter than other polymer cases, Pelican Air cases will lighten the loads of the dedicated pros around the world who have set out to change the game.
Pelican Air case are the first in a series of remarkable innovations engineered by Pelican, the pioneers of protective cases. For over 40 years Pelican has designed and crafted the most influential protective cases in the world, and we're just getting started.
The Pelican Air case has been designed to cut weight without compromising durability.
Our engineers have revolutionized the protector case by reducing structural waste while preserving Pelicans legendary standards of strength. Here are some important reasons why Pelican Air cases are both strong and light:
Molded from the next generation of Pelican's lightweight HP resin, a proprietary formula that rebounds without breaking
Honeycomb structural elements that are actually stronger than solid polymer material
Super-stiff "full-box" sections engineered to create hollow parts
It wouldn't be a Pelican case if you couldn't sink it, drop it, or kick it - and the Pelican Air case is no different.
Drop-tested on concrete with loads from six feet on all sides and corners
Submerged for 20 minutes at a depth of one meter
Wheels are roll tested over 914 meters
28 lbs (12.7 kg) steel dart dropped on all sides from one meter