Foam Info
Mycasebuilder NZ Foam.
TopGuard Base Foam:
Here at mycasebuilder.co.nz we use only the best foam available.
Our TopGuard Foam is our standard offering for case inserts in New Zealand, it offers great all round properties for protecting your valuble equipment while also looking fanstatic for presentation purposes.
If your looking for something a little different in your foam, 
contact us
 to discuss your requirements so we can work with you to get exactly what your looking for.
Coloured TopGuard:
Make your case stand out with our range of Coloured TopGuards. Select your choosen colour at the checkout. 
| | | | | |
| --- | --- | --- | --- | --- |
| | | | | |
| BLACK TOPGUARD | BLUE TOPGUARD | GREEN TOPGUARD | RED TOPGUARD | ORANGE TOPGUARD |
Lid Foam: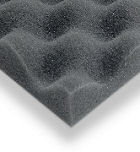 For designs that require foam for a case's lid, MyCaseBuilder offers two options: Convoluted foam and Solid (flat) foam. Convoluted foam (also known as egg-crate foam) is the standard for lid foam, offering suitable protection while securing case items in place. It is also recommended for designs where items may protrude from the Base into the case lid. Solid Foam is much less widely used, appropriate only for cases with very shallow lids (under 25mm), or for designs where all items sit flush with the surface of the base foam. Of course, since you're the designer the choice is yours!
Foam Fabrication Methods
Once your design is complete and your order is placed, it's cutting time. Our factory is outfitted with many computer-controlled precision cutting machines and we employ the right one for each job to ensure your case foam comes out perfect.
Foam Cutting Methods

Water-Jet Cut

Nothing matches the speed and accuracy of our Water Jet cutters. These machines cool, compress and stream a high-powered 0.010" (0.254mm) wide jet of water that cleanly slices even the most durable foams we offer. Every intricacy of your custom foam design will be picked up by the ultra smooth movement of the jet nozzle, resulting in a perfectly replicated custom cut foam insert.

Router Cut

For fabricating complex multipul height layered inserts we use our CNC router. This allows us to do very complex designs where you want multiple step-downs in one shape.
Questions?
As with all aspects of MyCaseBuilder, if you have any questions we encourage you to
contact us
so we can help you make the perfect case.